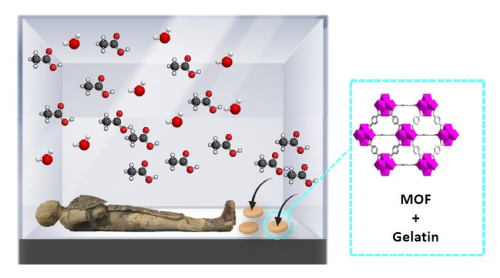 COBRA
Capture of volatile organic compounds by porous hybrid materials (MOFs): application related to the conservation of mummies and air pollution in museum
Scientific responsibility :
Nathalie Steunou
Agnès Lattuati-Derieux
Hélène Guichard
Marc Etienne
Didier Berthet
Partnership :
Musée des Confluences (Lyon)
Summary :
A few collections such as mummies continuously release volatile organic compounds (VOC) that are not compatible with their conservation and the preservation of other artefacts. While there is nowadays no efficient solution to address these problems of air pollution in museum, COBRA aims to conceive a novel type of adsorbent for cultural heritage based on porous hybrid materials such as Metal Organic Frameworks (MOFs). Our strategy will consist to select two or three MOFs with complementary adsorption properties with the aim of capturing the VOC that are mainly emitted in the showcases of mummies. While we have previously identified a few MOFs able to selectively adsorb VOC emitted in the showcases under humid ambient conditions, their performances for VOC capture have never been evaluated in the real conditions of the application (namely out of equilibrium conditions with a continuous emission of VOC). Our objective will be to validate this selection of efficient MOFs and then to shape a MOF based adsorbent whose performance for the VOCs capture will be tested in real conditions, namely in the mummies showcases of the Musée du Louvre and the Musée des Confluences. For that purpose, the adsorbent will be processed in the form of a coating or a tablet by combining MOFs with a biopolymer These small and cost-effective adsorbents are intended to be directly placed near the artefacts in the showcase. While the development of an efficient and robust adsorbent for a specific collection and exhibition area is planned in COBRA, this project paves the way for the construction of a novel generation of adsorbents that could be used for a larger number of collections and exhibition area.
Post-doctoral student : Sanchari Dasgupta