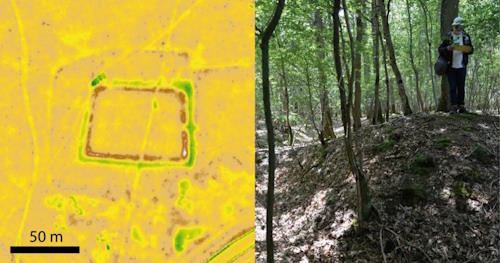 LiD'Eure
LiDAR survey processing and validation of geomorphological and archaeological markers in the Eure valley
Scientific responsibility :
Summary :
Background
Located in northern France, in the western part of the Paris Basin, the Eure Valley remains understudied. From a historical viewpoint, the region is marked by a several thousand years-old human occupation, and hence provides an original framework for the study on the long-term settlement dynamics and interaction mechanisms between societies and their environment. The use of the new LiDAR HD data recently been made available by the National Institute of Geography (IGN), must contribute, from a geoarchaeological and heritage conservation perspective, to reconstructing the evolution of landscapes and to recognizing the location of archaeological sites by inserting them in their environmental context.
Aim of the internship
Performing preliminary data processing under GIS using the new LiDAR HD data on the eastern portion of the study area by focusing on wooded environments
Revealing microtopographic signals of landscape evolution due to anthropogenic developments and abandonments, testing and applying appropriate geovisualization tools
Formalizing and building the vectorization of anomalies and their geomorphological and/or archaeological description
Preparing field documentation in support of in situ verification and validation missions
Performing modeling of the geomorphological and landscape inscriptions of the potential anthropogenic remains throughout the study area
The student will benefit throughout his internship from the scientific and technical skills of the pilot project team (archaeology, geomorphology, GIS and remote sensing). He/she will be trained in the different types of DTM treatment and will benefit from the logistical and technical support of the platform Geoteca. He/she will also be trained in field surveys and topometric measurements during field missions scheduled with the pilot team of the project throughout the internship period.