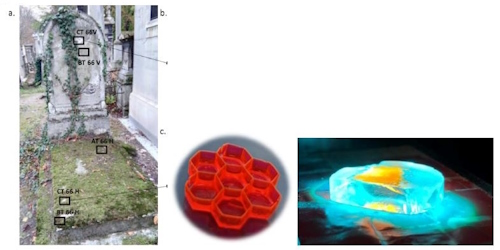 MIAM-test
Microbial Alteration and preservation of Monuments in urban area
Scientific responsibility :
Clarisse Bolou Bi
Samir Abbad
Aurélie Verney-Caron
Davy-Louis Versace
Faisl Bousta
Summary :
The preservation of built cultural heritage in an urban area is a socio-economic challenge for municipalities. During their lifetime, buildings out of stone are exposed to chemical and biological actions that lead to different alteration patterns.
In order to evaluate the treatments developed in the laboratory by the ICMPE team, under controlled and real conditions. The polymers will be applied to healthy coupons in the presence of microbial communities in the laboratory under controlled conditions as well as on the roof of UPEC. The application of treatments will take place in real conditions at Père Lachaise Cemetery on pre-aged coupons as well as on graves (in agreement with the cemetery manager). This would make it possible to see the curative effect and preventive effect of the treatments developed in the laboratory and its effectiveness on the different microbial communities (bacteria, fungi and microalgae). The safety of the treatments on the material as well as on the surrounding environment will be evaluated.