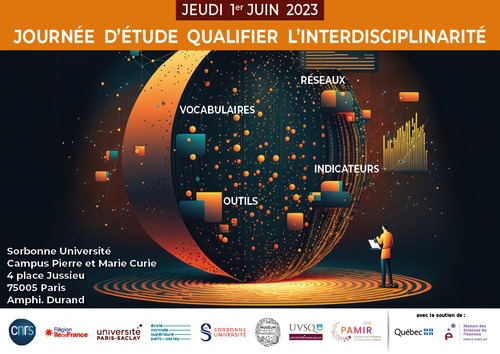 Qualifying interdisciplinarity : vocabularies, networks, tools and indicators
Scientific responsability :
DIM PAMIR

Loïc Bertrand
Caroline Corbières
Sophie David
Laurent Romary
Isabelle Rouget

Direction des bibliothèques, de l'Information et de la Science Ouverte de l'Université Paris-Saclay
Sorbonne Université Library
Université Versailles Saint-Quentin Library
Muséum national d'Histoire naturelle Library
Funding :
DIM PAMIR
MSH Paris-Saclay
Summary :
The DIM PAMIR will hold a workhop with the libraries of the Université Paris-Saclay, the Université de Versailles-Saint-Quentin-en-Yvelines, the Muséum national d'Histoire naturelle and Sorbonne Université and the support of the Délégation générale du Québec à Paris and the MSH Paris-Saclay, entitled "Qualifying interdisciplinarity: vocabularies, networks, tools and indicators". It will take place on June 1st at Sorbonne Université – Campus de Jussieu.
The starting point is that interdisciplinarity is a key issue in the construction of contemporary knowledge, even if it remains difficult to identify, and the support mechanisms are sometimes not adapted. During the day we will talk about the question of its qualification through a multidisciplinary approach. French and Quebec scientists, specialists in bibliometrics, network analysis, research network management and highly interdisciplinary themes will deepen their reflections.
The day, structured by three times of exchange, will be an opportunity to discuss and identify collectively methods and indicators of reference for the measurement of interdisciplinarity, and to reflect on their reproducibility and applicability in different scientific fields. It will highlight the contribution of bibliometric methods through the expertise developed by Yves Gingras and Vincent Larivière, both members of the Observatoire des sciences et des technologies du Québec.
Discover the program of the day and register on the website : https://journee-obispa.sciencesconf.org