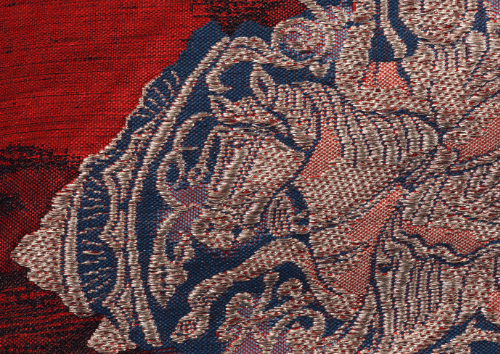 TEXNUM
Combining design, digital technology and the science of heritage materials to renew the visitor experience of textiles in museums
Scientific responsibility :
James Auger
Loïc Bertrand
Christophe Leynadier
Funding :
Région Île-de-France
Mihaly
Summary :
The development of digital technologies offers new ways of presenting heritage collections to the public. The aim of this thesis is to build an integrated data chain, through the lens of visual experience in order to highlight heritage textile collections. In museums, light is attenuated for reasons of preventive conservation (alteration of dyes and fibres), which in turn leads to limited or even misrepresentations of works for which optical perception and touch are key. The project, carried out at ENS Paris-Saclay, in partnership with the Mihaly company and with the support of the Musée du quai Branly, aims to enhance the interpretative and perceptive dimensions of the textile object (nuances, details) by using design methods such as: conceptualisation, creative exploration, prospective and reflexive approaches. To this end, the creation of 3D replicas, whilst moving away from hyper-realism, make it possible to add layers of physical interpretation through the development of new readings, relationships and understandings of different works of textiles. These devices will be tested in real-life contexts as new mediums of information for museological and educational purposes, for example, by physically demonstrating the effects of change under different lighting conditions. The aim is to develop new visual experiences, based on an interplay between digital and physical worlds, that enable the public to acquire knowledge and better remember the experience.
PhD student : Julia Reitzer