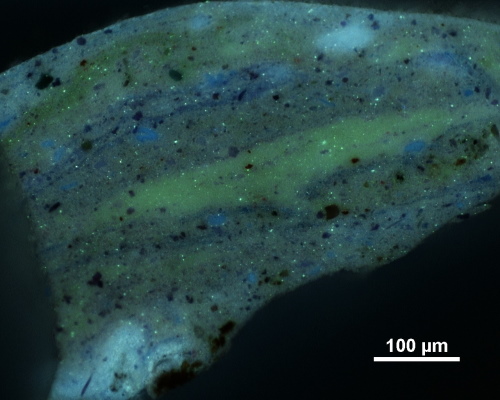 ZOoMM_ART
Characterization of the physico-chemical properties of zinc white through cross-sections from painting samples of a selection of 19th-20th century artists
Scientific responsability :
Summary :
Zinc white is a white pigment developed as an alternative to the toxic lead white, used by 19th-20th century artists until today.
This internship is part of a PhD thesis at the C2RMF on this pigment (N. Palladino supervised by V. Etgens and J. Salvant; 2020-2023), and aims to support one of the objectives of the project: to shed light on the extent and modalities of use of zinc white. Indeed, it is a pigment that can be used by itself, mixed with other colors – either by choice of the artist or by color manufacturers -, in painting layers as well as in grounds, and which can be cause of degradation, in particular because of its slow drying and formation of metal soaps.
The intern will support the characterization of a selection of painting cross-sections of the C2RMF to study the use of zinc white among certain artists. He/she will be in charge of the following activities:
Selection of cross-sections to be studied on the EROS database of the C2RMF
Analysis of cross-sections by optical microscopy, SEM-EDX, cathodoluminescence
Analysis of cross-sections by FTIR and photoluminescence when relevant
Comparison with further acquired data on the studied artworks and/or scientific literature on the artists of interest
The student will have the opportunity to be trained on:
Extraction and synthesis of information from a database
Initiation to the working practices of a research laboratory in the field of Cultural Heritage Science
Analytical techniques used in the field and in Materials Science
Opportunity to attend synchrotron radiation experiment if interested