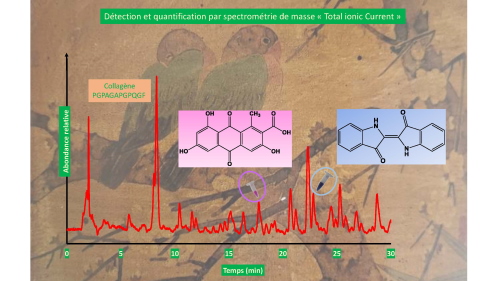 QuanOrgSen
Quantification of organic compounds by micro-chromatography hyphenated with very high sensitivity mass spectrometry
Scientific responsability :
Marie-Claude Menet
Witold Nowik
David Touboul
Jérôme Vial
Kaouther Ben Arfa
Funding :
DIM PAMIR
ICP
CRC
ICSN
IUT Paris-Saclay
Université Paris-Saclay
Summary :
Chromatography on line with mass spectrometry make it possible to analyze complex mixtures in a single operation. However, the components (proteins, dyes, triacylglycerols, etc.) contained in heritage objects are difficult to analyze in their native state by gas chromatography (GC) since this method requires product modification before analysis. Liquid chromatography is an advantageous alternative to GC because it presents a simplified sample preparation, often limited to the dissolution of analytes. It is therefore less subject to product losses during the numerous steps before analysis by chromatography. Thus, the instrument that we would like to acquire is a ultra high performance liquid micro-chromatography (μUHPLC) on line with a high sensitivity mass spectrometer, the triple quadrupole (TQ). The microsystem aspect and the very high sensitivity of the spectrometer will overcome the problem of the destruction of the sample since the weight of sample necessary for the analysis will be much lower than under conventional separation conditions. The TQ mass spectrometer, on the other hand, operates in different modes. It is capable of non-targeted study of molecules that share common organic groups, in so-called "common fragment ion detection" or "neutral loss » modes. But it can also be used in highly specific and sensitive MRM ("Multiple Reaction Monitoring") mode during quantitative studies on the organic compounds constituting the cultural heritage, as well as on the compounds brought during the life of the objects (pollution, aging), as during post-creation interventions (adulterations, restoration).