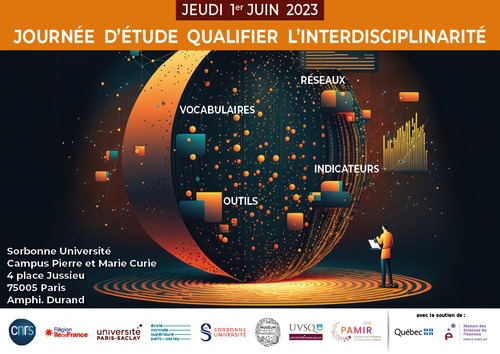 The DIM PAMIR will hold a workhop with the libraries of the Université Paris-Saclay, the Université de Versailles-Saint-Quentin-en-Yvelines, the Muséum national d'Histoire naturelle and Sorbonne Université and the support of the Délégation générale du Québec à Paris and the MSH Paris-Saclay, entitled "Qualifying interdisciplinarity: vocabularies, networks, tools and indicators". It will take place on June 1st, 2023, on the Pierre et Marie Curie campus of Sorbonne Université.
The objective of this day will be to examine research practices that can be used to define methods for measuring interdisciplinarity in the context of building new paradigms related to open science.
For further information, please consult the website of the event: https://journee-obispa.sciencesconf.org/
Registration is free but mandatory.